gordon calleja
bio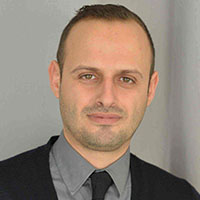 At the heart of my research and design work is a fascination with the way contemporary media both express and increasingly shape the human condition. My research focuses primarily on player experience, which has so far revolved around player involvement, immersion and presence. Another thread of research I have published extensively in is game narrative, once again advocating for an experiential approach to the subject. I have also written a number of articles on game ontology.
In recent years I have derived great satisfaction and inspiration in switching between analytical and design lenses, developing a number of successful digital and board game projects. While my roles varied on each project I was mainly in charge of game design, world building and writing. The design of these games is interwoven with my research work resulting in a rich feedback loop of ideas and observations that would have not been possible without that shift in perspective.
I am currently associate professor and director at the Institute of Digital Games at the University of Malta. Prior to founding the Institute of Digital Games at UoM I was the director for the Center for Games Research at ITU for five years. I have also found Mighty Box, a video game design studio, and Mighty Boards, a board game design studio and publisher. The current focus of my creative work is in board game design and writing.
My publications include: In-Game:From Immersion to Incorporation, and academic analysis of player involvement and immersion published by MIT Press; Will Love Tear Us Apart, an art game adaptation of Joy Division's track that was nominated for several international awards; Posthuman Saga,a hybrid euro-narrative boardgame and its digital cousin, Posthuman:Sanctuary which adapts the boardgame through a blend of a rogue-like mechanics and interactive fiction and delves more deeply in the issue of human evolution introduced in the boardgame.